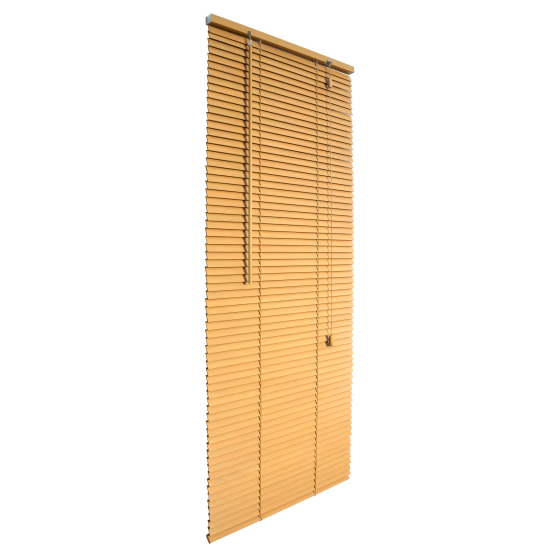 View larger
Venetian blinds natural
Remove this product from my favorite's list.
Add this product to my list of favorites.
Dlaczego żaluzje? Po pierwsze efekt na oknie! Tylko żaluzja potrafi dozować promienie słońca lekko zmieniając ich kąt padania, a nie je całkowicie zasłaniać, jak dobrze znamy z zasady działania rolet gładkich zwijanych. Sterując wszystkimi lamelami żaluzji jednocześnie, możesz oświetlić wnętrze równomiernie. W trakcie letnich dni, kiedy słońce jest wręcz oślepiające ustawiając żaluzje w pozycji pozostawiającej minimalne przestrzenie pomiędzy lamelami, widok tego co za oknem nadal jest w zasięgu Twojego wzroku. Żaluzja nie tworzy zatem efektu odcięcia jaki powstałby gdybyśmy zastosowali zwykłą materiałową roletę.
Żaluzje drewniane to propozycja dla tych którzy chcę żyć w zgodzie z naturą i otaczać się tym, co jest jej bliskie. Materiał podstawowy czyli drewno lipowe pozyskane z certyfikowanych plantacji oraz zmniejszenie elementów plastikowych i metalowych do minimum sprawia, że możesz mieć pewność posiadania produktu przyjaznemu zdrowiu oraz przyrodzie. Sam efekt wizualny które wnoszą elementy wykonane z drewna nie wymaga żadnej rekomendacji. Naturalność i prostota jest nadal modna i mnóstwo jej akcentów spotkać można w nowoczesnych wnętrzach.
Użytkowanie żaluzji jest proste i komfortowe. Sam sposób montażu czyli przykręcenie rolety do ściany, sufitu lub wnęki okna został zaprojektowany tak, aby żaluzja służyła bezawaryjnie wiele lat. Po zamontowaniu na oknie pozostaje tylko sterowanie. Za ułożenie lamelek odpowiada patyk sterujący. Podnoszenie i opuszczanie żaluzji to zadanie dla sznurków znajdujących się po przeciwległej stronie żaluzji, względem patyka.